In this Issue...
Thank you for helping us #DreamBig!

Recap
Board of Trustee Updates
We Need Your Feedback

Membership Update
Government Affairs
Education & Workforce Development
Emerging Professionals
Women in Lodging
Unique Lodging of Ohio
Sedgwick November Newsletter


---
Thank you for Helping Us #DreamBig!

2022 Annual Conference & Gala
November 21-22, 2022
Presented by

This year you helped us DREAM BIG with an all-new Exhibitor Marketplace, reimagined education schedule, and a more impactful Ohio Stars of the Industry Gala. Thank you to all of our attendees, exhibitors, sponsors, partners, & students who took part this year at the Hyatt Regency Columbus, November 21-22 – you helped make this year's conference the best yet! With just over 500 participants in attendance we are definitely charging forward on the Road Ahead to 2023.
Starting earlier on Monday, we presented attendees the opportunity to visit our new all-day marketplace. This year we celebrated a diverse array of exhibits from our tried & true Premier Partners & Allied Members, tech-focused partners, and non-traditional vendors who allowed you to shop around for unique products. New this year, our Test the Tech experience gave participants the chance to touch, see, and feel innovative solutions & technologies that are rapidly emerging in the hospitality industry to help our properties work more effectively and efficiently. Didn't get a chance to see everyone? View the complete exhibitor list here.
We began with an insightful opening session, The Spirit to Serve Starts from Within, presented by Rich Wrona of NetJets emphasizing how we can only do the best by our employees when we focus on the self, first. This was followed by a series of breakout sessions for all positions & experience levels in the hotel industry which focused on anti-trafficking, diversity & inclusion, and sales & marketing. Returning this year was our HSMAI Sales & ULO Tracks which target the specific needs of those sectors including social media marketing and maintaining client relationships.
We continued the action with Techfast: Eggs & Innovation on Tuesday. True to its name attendees enjoyed quiche while listening to experts in the technology field sharing insights on innovation trends happening now in hospitality. We also celebrated the second year of our Call For Solutions program by crowning SMARTLINEN as our Innovation & Technology Members' Choice Award recipient!
Embracing our new schedule this year we wrapped up conference with our Luncheon Finale – Complete with our Annual Business Meeting and Nationally Recognized speaker, Christine Trippi of The Wise Pineapple. Christine kept the excitement going by keeping the audience on their toes with fun giveaways, audience participation, and a high-energy presentation!
The shining star of Conference this year was, of course, the Ohio Stars of the Industry Gala! Monday evening OHLA had the privilege of hosting individuals from across the state who have stepped up, not only to meet, but exceed the needs of our industry. This year we were proud to welcome Ohio native, OHLA member and five-time Tedx Talk speaker, Alex Sheen, to the Stars stage. Alex shared his insights and actionable ways to become better at fulfilling commitments. He inspired our audience to become more accountable to their promises through compelling and real-life examples from the "because I said I would" movement. For more information regarding Alex's organization, click here.
Attendees enjoyed a shortened awards ceremony which focused on giving those who have distinguished themselves in Ohio's lodging industry their moment to shine. The ceremony not only included guest presenters, recognition of nominees, and the conferring of numerous awards, but a brand-new takeaway for attendees, the Nominees and Winners Book. This publication lists all of the nominees from around the entire state for Stars of the Industry awards in 2022 and contains the compete narratives of the Ohio Stars winners. If you missed out on grabbing a copy, contact info@ohla.org.

A big congratulations to our 2022 Ohio Stars of the Industry Award Winners!

Sedgwick Ohio Full-Service Housekeeper of the Year
★ Myrna Crawford, Hilton Cleveland Downtown
Sedgwick Ohio SEL Housekeeper of the Year
★ Slavica Ikonic, Country Inn & Suites by Radisson Cuyahoga Falls
G&J Pepsi Ohio Server of the Year
★ Regina Raines, The Lytle Park Hotel, Autograph Collection
G&J Pepsi Ohio SEL Attendant/Host of the Year
★ Connie Llewellyn, Hampton Inn Athens
Spectrum Enterprise Ohio Full-Service Front Desk Associate of the Year
★ Nancy Gilmore, 21c Museum Hotel Cincinnati
Spectrum Enterprise Ohio SEL Front Desk Associate of the Year
★ Twila Scott, Aloft Cleveland Airport
IGS Energy Ohio Supervisor/Manager of the Year
★ Kim Dupras, Crowne Plaza Cleveland at Playhouse Square
IGS Energy Ohio SEL Jack of All Trades
★ Thomas Blevins, Holiday Inn Express & Suites Dayton-Centerville
Pure Air Solutions of PA Ohio Full-Service Engineer of the Year
★ Roy D'Mello, Hilton Garden Inn Cleveland Downtown
Pure Air Solutions of PA Ohio SEL Engineer of the Year
★ Greg Johnson, Springhill & Towneplace Suites Easton Area
Heartland Ohio Service Superstar of the Year
★ Gina Horne, Hyatt Regency Columbus
HSMAI Ohio Sales Leader of the Year
★ Pierre Le, Hyatt Regency Columbus
Allied Member of the Year
★ SpaceIntel
'Heart of Hospitality' Volunteer of the Year
★ Julia Bowling, Sedgwick
Proxi Unique Lodging of Ohio Property of the Year
★ Canopy Ridge Cabins, South Bloomingville, OH
BMS CAT Ohio Full-Service General Manager of the Year
★ Nic DiLillo, Crowne Plaza Cleveland at Playhouse Square
BMS CAT Ohio SEL General Manager of the Year
★ Moji Collins, Fairfield Inn & Suites Cincinnati Uptown University Area
ServiceMaster Restore Ohio Hospitality Leadership Team of the Year
★ Carlisle Inn Walnut Creek Leadership Team
G&J Pepsi Ohio Charitable & Community Involvement Award
★ InterContinental Hotels Cleveland
---
OHLA Members Elect Leaders, Board for 2023


| | |
| --- | --- |
| At the Annual Business Meeting of the Ohio Hotel & Lodging Association, members from across the state voted to elect the slate of officers and board members for the coming year. The statewide board will be lead by Chad Bortle, President of SJB Management Inc. and SJB Hotels LLC, Granville. Other officers of the board elected at the Annual Business Meeting are: | |
Vice-President, Bill Reed, Flats East Bank
Second Vice President, Holly Hollingsworth, First Hospitality
Treasurer, Alan Assaf, Indus Hotels
Past President, Steve Stewart, Hyatt Regency Columbus
Ex-Officio, Geri Lombard, Hotel LeVeque Autograph Collection
OHLA will welcome the following new members to the Board of Trustees:
Frank Arena, GM, SpringHill Suites Cincinnati Midtown/Commonwealth Hotels
Deon Watkins, GM, Home2 Suites Stow-Akron/Country Inn & Suites Cuyahoga Falls/NEO Hotel Group
Nicole McCabe, GM, The Inn & Spa at Cedar Falls, Hocking Hills Golf Club & Urban Grille
Our congratulations and thanks to these newly-elected leaders. For more information, see the full news release about the OHLA Board Elections for 2023.
---
We Need Your Feedback!
The Annual Conference is one of the most important events for the hotel industry each year. Your feedback is important to us and shows us know how we can keep improving your experience year after year.
Please take a brief moment of your time to complete this online survey to provide your confidential, honest feedback about the event program, venue, sessions and details.
---
December Membership Update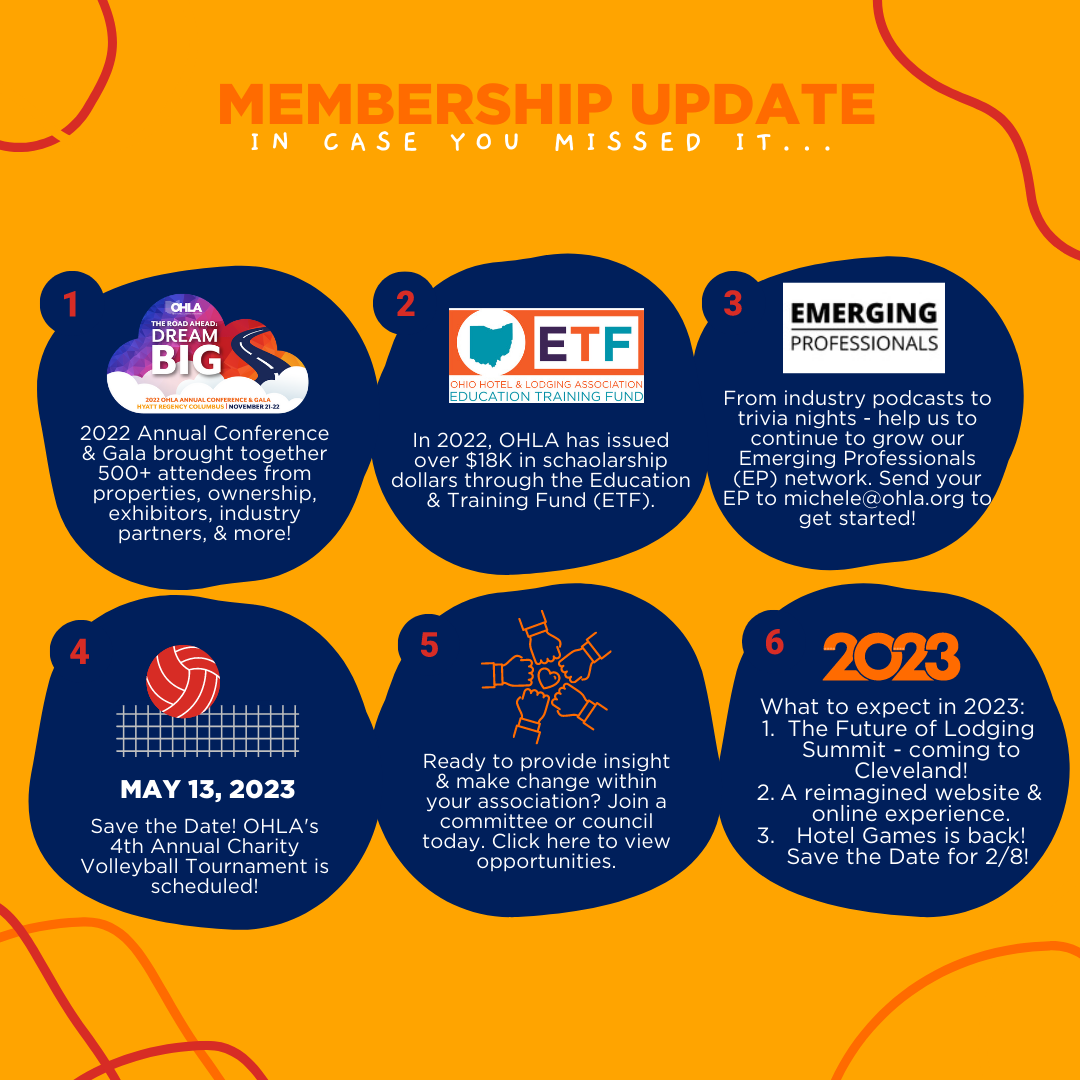 ---
Government Affairs Update


Industry Joins to Launch Sustainability Initiative
OHLA has endorsed sustainability principles and added its support for the launch of the Responsible Stay initiative. The American Hotel & Lodging Association launched the new program this week to showcase industry efforts in sustainability, including energy efficiency, water conservation, waste reduction, and responsible sourcing.
See more in full Government Affairs Update.
Legislative Committee Examines Hotel Licensure Changes
A study by a state legislative committee has suggested changes to Ohio's hotel or single room occupancy license. OHLA has provided testimony to the members of the committee to point out that any proposal which threatens Ohio's effective and consistent method of licensing hotels at the state level with circumstances that could lead to a widely varying, confusing, and potentially more expensive patchwork of local licensing schemes is concerning for the hotel & lodging industry.
See more in full Government Affairs Update.
OHLA Supports Advocacy Efforts to Congress on Workforce & Immigration
Hospitality Is Working, an affiliate program of the American Hotel & Lodging Association supported by OHLA, launched a Workforce & Immigration Initiative this week to emphasize the need for Congress to support the American workforce and economy through bipartisan solutions to fix our nation's broken immigration system. More than 350,000 hotel jobs have been lost since February 2020. Hotels are looking to fill more than 105,000 hotel jobs currently open across the nation.
See more in full Government Affairs Update.
---
Education & Workforce Development Update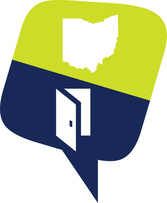 Education & Workforce Development Committee Planning Help Needed!
OHLA will begin planning for 2023 The Future of Lodging Summit(s) full force in January. If you (or someone you know) are interested in helping plan this necessary & impactful event and enjoy talking about Solutions and Action Steps to our workforce needs, contact Cindy@ohla.org.
---
OHLA Emerging Professionals


Upcoming Third Thursday - Last of 2022! - RSVP HERE



What are Third Thursdays?
Every Third Thursday of the month the hotel & lodging industry is invited to get together over a BYO (bring/buy your own) coffee, lunch, or cocktail hour hosted by our Emerging Professionals Committee. This is a time to connect with other professionals in the hospitality industry in a low pressure environment. Let's chat!
NEXT:
Thursday, December 15
11:00AM - 1:30PM | Open House - Come anytime!
Historic Trolley District: East Market
212 Kelton Ave, Columbus, OH 43205
Interested in getting more involved? The Emerging Professionals Committee wants YOU!
We are looking for individuals who want to get involved on a deeper level with OHLA and who have a passion for developing meeting content, helping others climb the ladder, and offer their skills & knowledge to be a part of the Emerging Professionals Committee. If you are interested email your application and intent of participation to michele@ohla.org, Emerging Professionals Committee staff liaison.
OHLA Emerging Professionals Application Form
---
Women in Lodging CONNECT


Join OHLA WIL CONNECT at FORWARD 2023
MAY 4-5, 2023
Visit this AHLA Webpage to learn more about the FORWARD Conference


Ohio wants to make the BIG SCREEN in 2023!
With at least 10 participants attending we'll save on fees and, be listed as a state having 10 or more participants in attendance.

Learn more about AHLA - Advancing Women in Hospitality
---
Unique Lodging of Ohio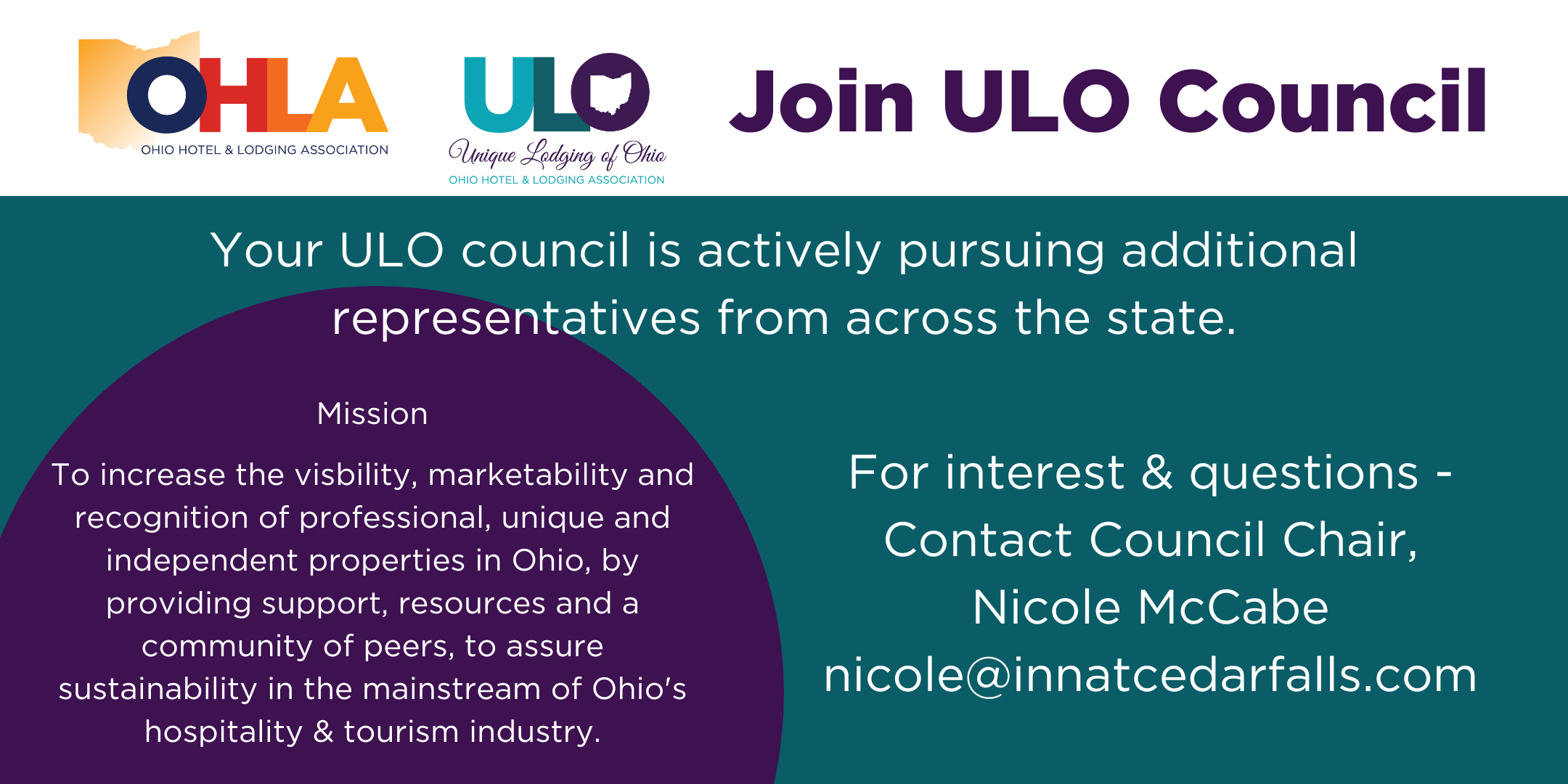 Congratulations to our 2022 Unique Lodging of Ohio Property of the Year!
Canopy Ridge Cabins, South Bloomingville, OH
Sponsored by: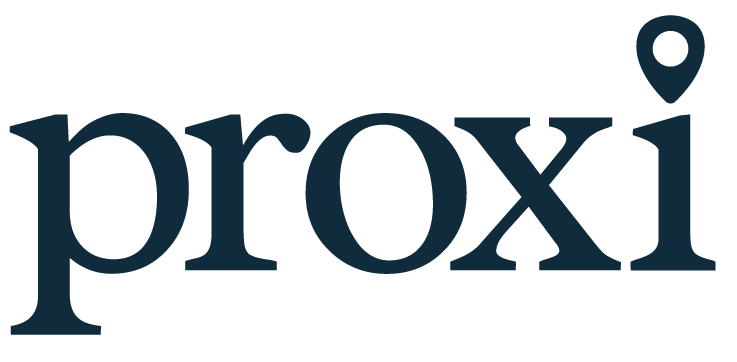 ---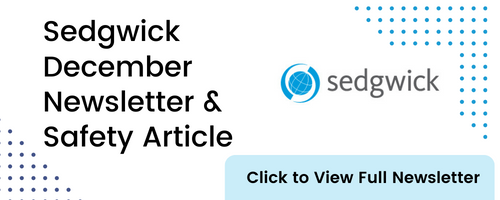 Don't forget to view the yearly Group Rating Safety Accountability Letter too! Click Below.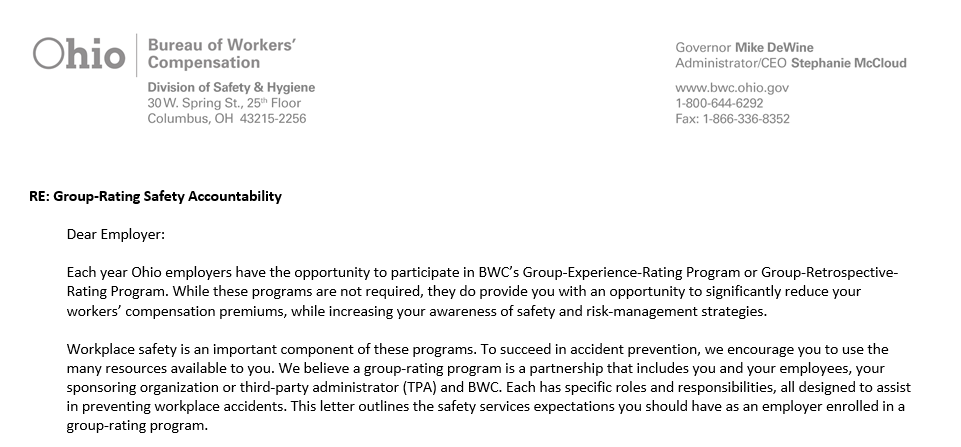 ---
Premier Partner Feature
We will be featuring two or three of our premier partners a month to show how they can help you! Any questions about services can be directed towards lauren@ohla.org.
Thank you to our Premier Partners for their support of the hotel & lodging industry!
| | |
| --- | --- |
| | Improve your guest experience with asset, facility and equipment management in one universal technology platform. Leverage SpaceIntel's virtual reality, 3D interactivity, and predictive analytics to solve operational pain points so your team can focus on their main goal – superior guest service. |
| | For over 50 years, Sedgwick has been helping employers navigate Ohio's workers' compensation system, providing services to help them control claim-related costs and reduce premiums. Their team includes the experienced colleagues from CompManagement and CareWorks Comp. The two companies merged and are now Sedgwick. Together, they serve nearly 65,000 Ohio employers including organizations of all sizes operating in various industries across the state. |