In this Issue...
February is Black History Month
Lodging Council Business Meetings
Membership Update
Government Affairs
Hotels on the Hill
Allied Spotlight - transFORM Construction
Education & Workforce Development
Emerging Professionals
Women in Lodging
Unique Lodging of Ohio
Sedgwick February Newsletter


---
February is Black History Month
As February marks Black History Month, join the Ohio Hotel & Lodging Association as we continue the necessary work and conversations needed to provide more opportunities, service, and outreach to more individuals in our industry. Today and every day we celebrate the diversity of our industry, African American hospitality leaders, businesses, and organizations. #ItStartsWithUs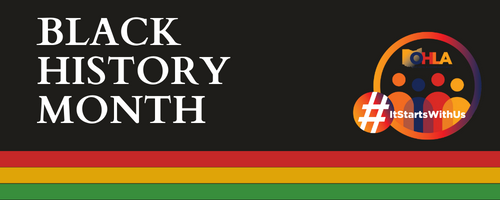 ---
OHLA Lodging Council Business Meetings
OHLA Lodging Council Meetings are back in full swing! Yesterday, OHLA had the pleasure of visiting with hoteliers, Allied Members, and partners in the Akron, Canton, & Mahoning Valley councils. Be sure to continually check the OHLA Calendar to see when we will be visiting your area of the state.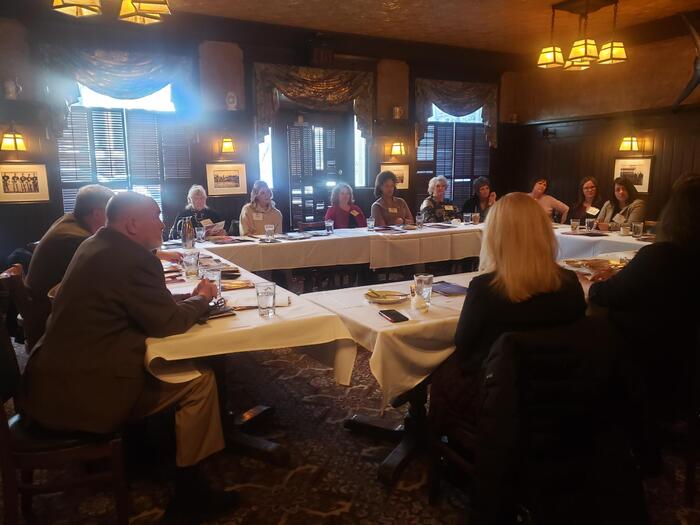 Upcoming Events:
Greater Dayton Lodging Council Meeting
February 16
12:00 - 2:00pm
Meadowlark Restaurant (Dayton, OH)


Sunnyside Up: A Membership Brunch
March 1
8:00-10:00am
Columbus, OH


Greater Cleveland Lodging Council Meeting
March 14
10:00am-12:00pm | Time subject to change
Cleveland, OH
To see schedule of events go to:
---

---
Government Affairs Update


Employers could see lower workers' compensation rates in 2023
Ohio employers could pay less for workers' compensation after mid-2023. The Ohio Bureau of Workers' Compensation announced a proposal that would lower employer premiums by 8 percent. Such a move would save employers across the state more than $90 million.
Governor DeWine Emphasizes Budget Priorities in State of State Address
Preparing Ohio's workforce for success and attracting more workers and businesses were key themes in the Gov. Mike DeWine's 2023 State of the State address. This week, the Governor also released his two-year state budget proposal. The budget proposal also includes potential changes to the state's visitor marketing arm, TourismOhio. While the potential for additional state marketing to attract residents and visitors could be a positive additional activity, the state cannot afford to forfeit the dollars and economic activity produced by visits to Ohio that TourismOhio has helped produce for our travel economy.
Ohio's Legislature Begins 2023-24 Session
Activity in Ohio's Statehouse is in full swing with the naming of new legislative leaders, committee chairs and the introduction of many pieces of legislation, in addition to the Governor's budget proposal. Early legislation monitored by OHLA's government affairs team is outlined in the full report.


See more on these items in the full Government Affairs Update.
---
Hotels on the Hill
The Hamilton Hotel - Washington, D.C.


The hotel industry's annual legislative summit returns in 2023. A lot has changed since hotels last united in the nation's capital for the 2019 Legislative Action Summit. It's a new era, with new challenges and a new Congress, and it's time for a new name for our industry's day on Capitol Hill. Join fellow hoteliers from across the country, meet with Members of Congress from Ohio and share the issues impacting your business, your guests and the great people who work in our industry.
Registration information:
Early Bird Registration (until Mar. 1) $150.00
Hotel Accommodations Rate $339.00/night
Sample r/t airfare as of 2/1: $190.00
OHLA provides scholarship/stipend assistance to help cover the cost of attending. Contact Joe Savarise at joe@ohla.org or 614-461-6462 for details.
OHLA will also provide support for Ohio hotelier participants leading up to and during the Hotels on the Hill event. OHLA members are invited to an exclusive dinner event for visitors from Ohio at no extra charge if you are registered for Hotels on the Hill. OHLA staff and leaders will also be present for meetings with Ohio lawmakers, will provide state-specific information, and be available for questions or guidance.
---

transFORM Construction is OHLA's Newest Premier Partner
We are proud to announce our new partnership with transFORM Construction, a central Ohio design and build contractor with 20 years of experience and six years of success with hotel projects. They were just named the seventh largest residential remodeler by Columbus Business First. Joshua Weir and the team of more than 30 employees can work with you on any building project, including:
Quick bid on small projects or potential projects you are considering
PIP budget for plans you may have already completed but require a competitive budget
Deferred maintenance & repair
Emergency needs such as water leaks and room damage to get your hotel fully operational
transFORM is an OHLA Premier Partner because they are more than a contractor. They will work with you in a fully consultative role to help provide options and the best way forward for any project. They can be the "easy button" for all things construction-related.
View this short message from Joshua Weir, President of transform Construction. The entire company is excited to work with OHLA members and our industry. Joshua will be happy to meet informally asap just to get to know you, your property or your company. Call him direct at 614-565-8888, or for more information and to receive an introduction courtesy of OHLA, contact Joe Savarise at joe@ohla.org.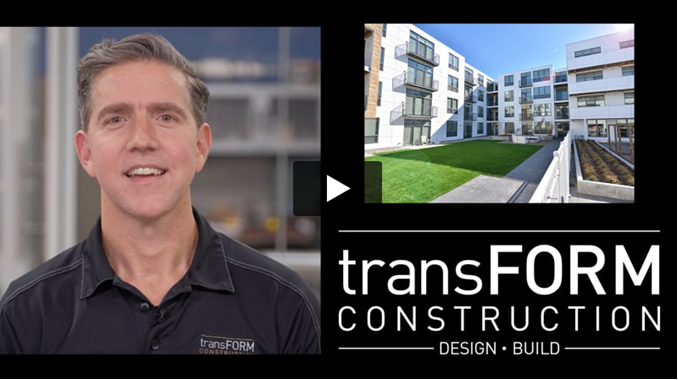 ---
Education & Workforce Development Update
2023 The Future of Lodging Summit is expanding to offer two mirrored events.
The Education & Workforce Development Committee is planning to hold two summits this year. Our Inaugural Future of Lodging Summit was very successful in getting the feedback we needed from those attending. With the actionable outcomes of our inaugural summit, we are able to expand on several topics of importance. The 2023 summits will mirror each other in content, promotions and some sponsorships.
Click below to see full pdf.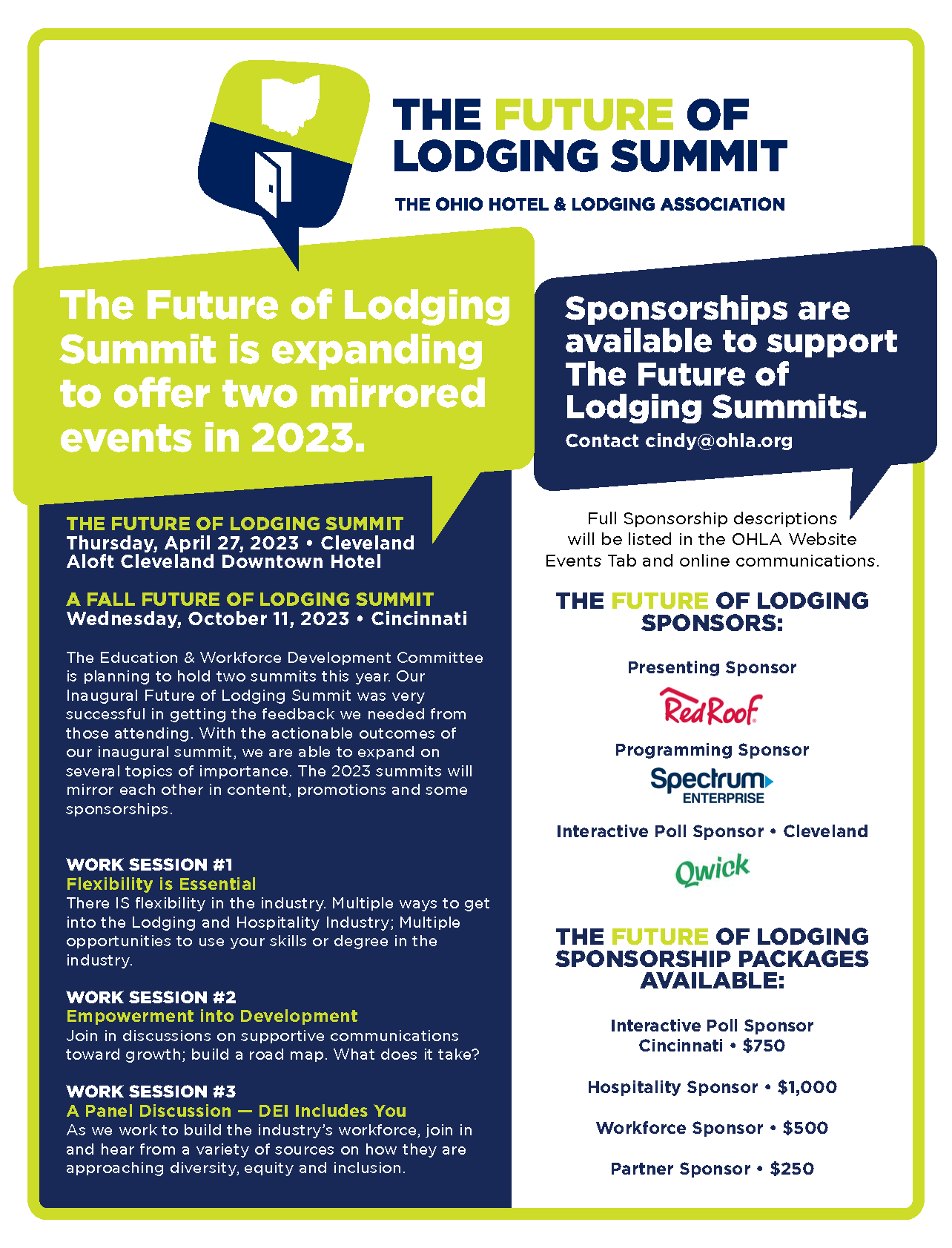 SAVE THE DATES!!
Future of Lodging Summit Cleveland
Thursday, April 27, 2023
Aloft Cleveland Downtown


Future of Lodging Summit Cincinnati
UPDATED DATE: Wednesday, October 11, 2023
Cincinnati, OH

Work Session #1 - Flexibility is Essential
There IS flexibility in the industry. This session emphasizes the multiple ways to get into the Lodging and Hospitality Industry & multiple opportunities to use your skills or degree in the industry
Work Session #2 - Make Changes, Work Better!
What does it take? Participate in activities, discussions and build a road map for career success.
Work Session #3 - A Panel Discussion- DEI Includes You
As we work to build the industry's workforce, join in and hear from a variety of sources on how they are approaching diversity, equity and inclusion.
Future of Lodging Summit Support
Sponsorships are available to support of The Future of Lodging Summits. Interested? Contact cindy@ohla.org
Thank you to our current sponsors!
| | | |
| --- | --- | --- |
| Presenting Sponsor | Programming Sponsor | Poll Sponsor |
Congratulations are in order...

Congratulations to the Ohio Hotel & Lodging Association! Award winner for all the historic gains and hard work put into the Innovation & Technology focuses throughout 2022, at the ISHA Winter Conference December 2022, San Diego, CA.
Upcoming Career Fairs

Whitehall-Yearling High School Career Fair
Wednesday, March 1, 2023
1:00 - 4:00pm


Important Fair Information:
This is an interactive fair.
- We want students to see the tools, equipment, products, etc. that your company uses &/or sells at the fair.
- If your company or school has various departments (i.e., hardware, plumbing, carpentry, various nursing programs, automotive or welding, etc.), please invite them to attend our fair.
- If you plan to bring some items or have more participants attending, please tell me so we can provide more table space.


Upon verifying participation with contact, please submit answers to questionnaire below:
Does your company offer: job shadowing &/or on-the-job training
Is there a minimum age requirement to work
Do you require certifications & if so, what are they
Are there specific skills required before being hired
What are your general salary ranges (starting wage to management)


Invitation to Alumni | 3:15 - 4:00pm
- Many companies are looking to hire new employees, so Whitehall-Yearling Alumni will be invited to attend the career fair after the school is dismissed. Those guests will be looking for jobs that they can start immediately.
- The invitation will be posted on various alumni social media websites, Whitehall City Schools' website & the Whitehall-Yearling Alumni website.
If interested in participating as a company contact:
Contact: Joyce Turnbull, jnturnbull51@aol.com or 847-502-9052
Columbus State Community College
Registration Information Below
CSCC Career Fair

Tuesday, February 28, 2023
10:00am-1:30pm
Mitchell Hall



To Participate:

1) Please fill out the application here and return to kadams65@cscc.edu by Friday, February 17, 2023

2) Go to Eventbrite to prepay for the reservation here.

- The Booth spaces are $50 each, including a tablecloth, two chairs, and two boxed lunches.

- Additional tables are $15 each, Additional lunches are $10 each, and electricity is no charge.

CSCC Hospitality Management and Culinary Arts Career Fair Day

Friday, March 4, 2023
9:00am-3:00pm
Mitchell Hall



If interested in participating:

Please contact Kay Adams at kadams65@cscc.edu or call (614)287-5504.

- Cost for one skirted table and lunch for two is $50.

More information to come.
Ohio University
Register at Links Below
BGSU/Cedar Fair Resort and Attraction Management
Register at Links Below
February 17, 2023

10:00am - 12:00pm

BGSU RAAM Building: 250 E. Market Street, Sandusky, OH 44870

February 17, 2023

1:00-3:00pm
---
OHLA Emerging Professionals

Third Thursdays are RETURNING but with a twist!
Moving into 2023, all of OHLA's Emerging Professionals events will be happening on the Third Thursday of every month! Expect more networking opportunities, more education, and more people to connect with!

Up Next on the Calendar...
EP Third Thursday Networking Event
February 16, 2023
4:00-6:00pm
North Market Bridge Park
A Look Ahead - We need your feedback!
As your Emerging Professionals Committee & Community is gearing up for 2023 you can expect to see more focus on benefits of being a member, continued Third Thursdays, and new ways to engage with others in our industry. We also want to provide the best possible offerings to you as an EP.
What would you like to see in 2023? Tell us here!
Interested in getting more involved? The Emerging Professionals Community wants YOU!
OHLA Emerging Professionals is a community open to industry professional members. Emerging Professionals offers resources, networking, and education designed to ensure young, emerging professionals have the career development opportunities to move up in the lodging industry.
---
Women in Lodging CONNECT


WIL CONNECT Anti-Human Trafficking Monthly Tip: February
Indicator: Watch for signs of dissociation or avoidance of interaction with others, especially about sharing their personal situation. A victim of trafficking may have restricted, mediated, or controlled communications.
Plan ahead for March!
All Month we will be celebrating Women's History Month
Send Us Your Stories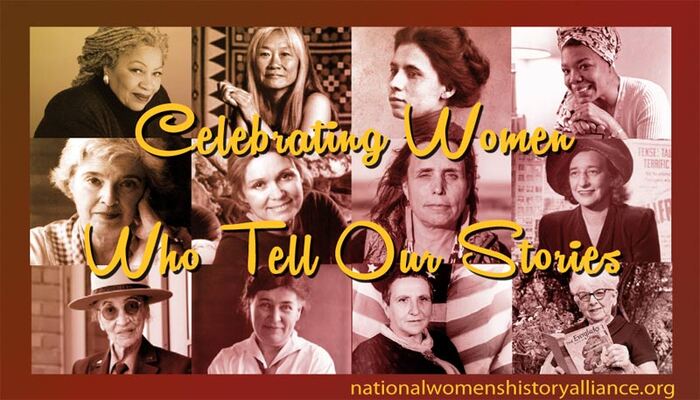 The 2023 National Women's History Month theme is "Celebrating Women Who Tell Our Stories." To help celebrate we want to feature our Lodging & Hospitality female leaders.
Send us stories, to be featured in March, about those women who work at your properties everyday to bring joy and increase your hotel scores! Send testimonials to cindy@ohla.org.
Learn more about the National Women's History Month theme here.

The 2023 Theme is #EmbraceEquity! Prepare to tag us on social media showing us your best "embrace" pose & let us know why you value equity!
Example: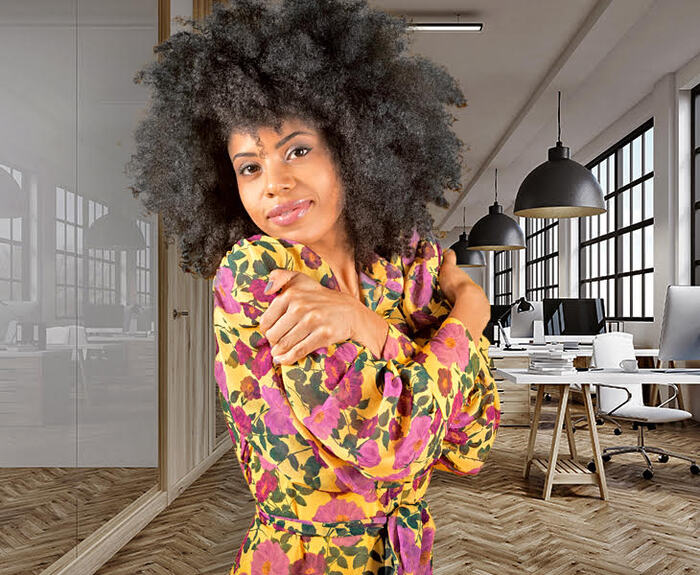 # EmbraceEquity #IWD2023
Join OHLA WIL CONNECT at FORWARD 2023!
MAY 4-5, 2023
OHLA will again offer a scholarship to those at member properties registering to attend. The OHLA Scholarship will cover the ForWard Conference fee. You will be on your own for transportation to and from Chicago, meals outside the conference event, and any other transportation or parking fees. Plan to be in Chicago late morning of May 4, through late afternoon May 5. Hotel reservations will open soon..
Please contact cindy@ohla.org for more details and to sign up to attend.


Learn more about AHLA - Advancing Women in Hospitality
---
Unique Lodging of Ohio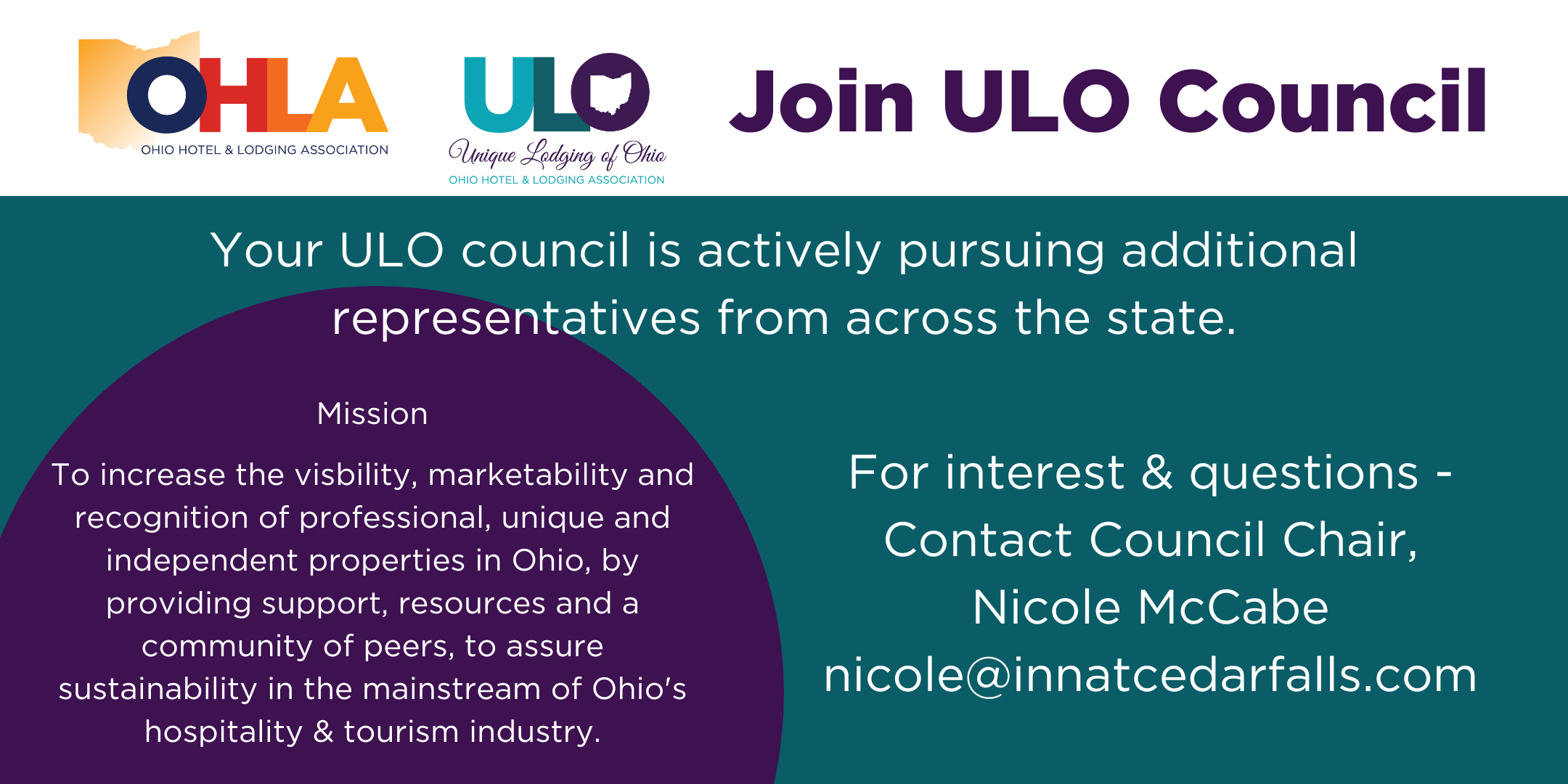 ---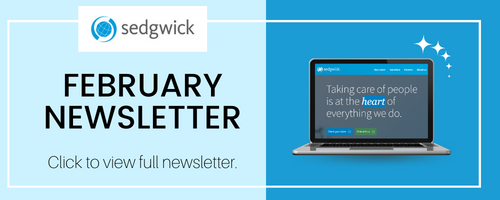 ---
Thank you to our Premier Partners for their support of the hotel & lodging industry!
Each month will will highlight a few of our Premier Partners & demonstrate how they can help YOU with your daily operations! Questions about services provided? Contact michele@ohla.org.
| | |
| --- | --- |
| | transFORM Construction is a central Ohio design and build contractor with 20 years of experience and six years of success with hotel projects. See spotlight above! |
| | For over 50 years, Sedgwick has been helping employers navigate Ohio's workers' compensation system, providing services to help them control claim-related costs and reduce premiums. |