Allied Membership
Allied Members play a crucial role in the success of Ohio's hotel and lodging businesses. Allied partners are those that provide goods or services to the hospitality industry.
How can OHLA help you connect with Ohio's lodging community?
Build your network with access to our database of lodging property members, management companies, and owners
Be seen with a free listing in both the online and printed Allied Membership Directories
Attend Local Lodging Council Meetings, GM Receptions, & Luncheon Series
Sponsor OHLA events and professional development opportunities
Promote your business through the monthly OhioLodging e-newsletter and annual Allied Directory
Share industry insight through the e-newsletter's Allied Spotlight and online resources & education
Exhibit at the 2020 OHLA Annual Conference & Gala
Discover new hotels coming to Ohio through our Quarterly Pipeline Hotel Report
Stand Out as an industry partner with the use of the OHLA Allied Member logo
If you are interested in receiving the benefits of an OHLA Allied Membership, please fill out an Allied Member Application or have questions, contact Lauren Stazen, Director of Membership at lauren@ohla.org or (614) 461-6462 ext.4.
Convention and Visitors Bureaus take this survey!
For Educators and Students, please fill out an Educator/Student Application and return to Lauren Stazen at lauren@ohla.org.
Sponsorship & Advertising
Sponsorship and Advertising Opportunities through OHLA gets your business noticed by the large community of Hotelier and Small & Independent Properties within our member network.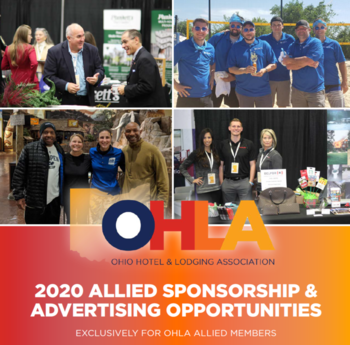 Take Advantage of ALL the Great Opportunities OHLA has to Offer!